cintelliq is pleased to announce their latest patent report Organic Electronics: A ten-year review of the patent landscape - this review and analysis of organic electronic patents covers the period 2008 - 2017. The review and analysis focuses on organic and printed electronics - includes device, material and process patents for OLED, OPV, OPD, OTFT, sensors and related devices.
The report is the world's first comprehensive analysis of organic electronic devices, materials and process patents. It is a must have resource for all companies with an active development program in organic and printed electronics.
The landscape review review and analysis is based on more than 160,000 patents that were published between January 2008 to December 2017 - a ten year period. Patent publication has steady increased from 12,000+ in 2008 to more than 20,000+ by 2017. A growth of more than 70%, although annual increases have varied, peaking in 2014 and then slowing in 2015 and 2016 with a rapid increase in 2017.
These published patents are a result of innovations filed by companies primarily between 2007 and 2014, it is worth noting that the fall off from 2014 is just a reflection of the delay between filing a patent and its publication - about 18 months.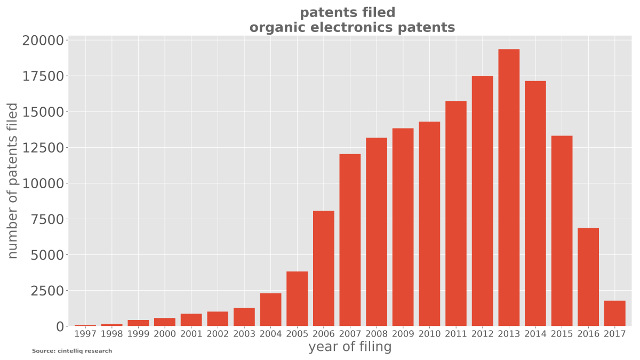 Figure: cintelliq - Organic Electronics 2008 - 2017 - priority years
Japanese companies account for the largest share of individual patents, with Korean, US, Chinese, German, British, Taiwanese and French companies all within the top ten of priority filing countries.
Figure: cintelliq - Organic Electronics 2008 - 2017 publication country vs priority country
The Organic Electronics: A review of the patent landscape 2008 - 2017 helps consolidate your understanding on the developments that have occurred over the past ten years and the companies and institutions behind these developments.
The report can be used in many ways:
benchmark your own analysis against our review
learn how the industry has developed over the past ten years
learn about your competitors
identify partnerships between companies
identify new companies for business development
identify new trends and topics
identify changes in focus of companies
identify new companies developing technologies
identify new companies entering the market
identify business development opportunities
identify customers
identify applications
plan your research and development
review your own patent portfolio
save time collecting, cleaning and preparing patent data for analysis
Companies mentioned :
The report reviews and analyses a large number of companies - a sample of those are shown below :
3m innovative properties co | adeka corp | agency science tech & res | apple inc | applied materials inc | arkema inc | armor | asahi glass co ltd | astron fiamm safety | au optronics corp | basf se | beijing university | beijing visionox tech co ltd | boe technology group co ltd | cambridge display technology ltd | cambridge enterprise ltd | canatu oy | canon corp | carben semiconductor | casio computer co ltd | changchun applied chemistry | cheil ind inc | chinese acad inst chemistry | chunghwa picture tubes ltd | commissariat energie atomique | csiro | corning inc | corning prec materials co ltd | cpi innovation services ltd | cs elsolar co ltd | cynora gmbh | daicel corp | dainippon ink & chemicals | dainippon printing co ltd | dainippon screen mfg | denso corp | dexerials corp | dongguan anwell digital mach | dongjin semichem co ltd | dongwoo fine chem co ltd | doosan corp | dow global technologies llc | du pont | dupont teijin films | duk san neolux co ltd | duksan high metal co ltd | dyesol ltd | eastman kodak co | ecole polytechnique fed de lausanne | e ink corp | eight19 ltd | emagin | emde projects gmbh | everdisplay optronics shanghai ltd | evonik degussa gmbh | flexenable ltd | fraunhofer | fuji electric holdings | fuji xerox co ltd | fujifilm corp | fujitsu ltd | furukawa electric co ltd | futaba denshi kogyo kk | general electric | georgia tech res inst | global oled technology llc | gracel display inc | heesung material ltd | heliatek gmbh | henkel ag | heraeus clevios gmbh | hewlett packard development co | hitachi chemical co ltd | hitachi displays ltd | hitachi high tech corp | hitachi ltd | hodogaya chemical co ltd | hon hai prec ind co ltd | ibm | idemitsu kosan co | ignis innovation inc | imec vzw | imperial innovations ltd | itri | innolux corp | innovationlab gmbh | inst of microelectronics cas | intel corp | irico group | isis innovation | iucf hyu | japan display inc | japan science & tech agency | jilin optical & electronic materials co ltd | jilin university | jnc corp | joled inc | jsr corp | jusung eng co ltd | jx nippon oil & energy corp | kaneka corp | kateeva inc | kolon inc | konarka technologies inc | konica minolta inc | koninkl philips electronics nv | korea advanced institute of science and technology | korea electronics telecomm | korea ind tech ins | korea inst sci & tech | korea mach & materials inst | korea res inst chem tech | korea university research and business foundation | kunshan govisionox optoelectronics co ltd | kunshan new flat panel display technology ct co ltd | kwangju inst sci & tech | kyocera corp | ledon oled lighting gmbh | leonhard kurz stiftung & co kg | lg chem ltd | lg display co ltd | lg electronics inc | lg innotek co ltd | lintec corp | lomox ltd | lumiotec inc | massachusetts inst technology | matsushita electric ind co ltd | merck patent gmbh | mitsubishi chem corp | mitsubishi materials corp | mitsui chemicals inc | nat university of tsing hua | nec corp | nec lighting | neoview kolon co ltd | nippon kogaku Corp | nippon seiki co ltd | nippon steel chemical co | nippon zeon co | nissan chemical ind ltd | nitto denko corp | nokia corp | novaled gmbh | oceans king lighting science | oji holdings corp | oledworks gmbh | osram oled gmbh | osram opto semiconductors gmbh | oxford photovoltaics ltd | panasonic corp | panasonic elec works co ltd | panasonic ip man corp | parc | pioneer corp] | pioneer electronic corp | plastic logic ltd | plextronics inc | pnh tech | polyera corp | polyic gmbh | polymer vision ltd | postech acad ind found | pragmatic printing ltd | research and business foundation sungkyunkwan university | ricoh corp | rohm and haas elect materials | rohm co ltd | saint gobain | samsung corning prec mat co | samsung display co ltd | samsung electronics co ltd | samsung mobile display co ltd | samsung sdi co ltd | sandisk 3d llc | sanyo electric co ltd | schott ag | seiko epson corp | sekisui chemical co ltd | semiconductor energy lab co ltd | sfa engineering corp | sfc co ltd | shanghai everdisplay optronics co ltd | shanghai university | sharp corp | shenzhen china star optoelect | showa denko corp | sichuan cco display tech co | siemens ag | smartkem ltd | snu precision co ltd | snu r and db foundation | solvay | sony corp | south china university of technology | sumitomo chemical co ltd | sunic systems ltd | tcl group co ltd | tdk corp | tesa se | tianma micro electronics co ltd | tno | tokyo electron ltd | toppan printing co ltd | toray industries | toshiba corp | toshiba matsushita display tec | toshiba mobile display co ltd | tosoh corp | toyo ink mfg co | tpo displays corp | truly semiconductors co ltd | ube industries | ulvac corp | university of electronic science & tech | university of florida | university of heilongjiang | university of jiliang china | university of hong kong | university of kyushu nat university of corp | university of michigan | university of nanjing posts & telecomm | university of nat taiwan | university of princeton | university of soochow | university of southern california | university of tsinghua | university of tokyo | university of wake forest | universal display corp | university of california | valiant co ltd | wuhan china star optoelectronics technology co ltd | wuhan university | xerox corp | yamagata university | zeon corp
About the report
The Organic Electronics: A review of the patent landscape 2008 - 2017 is provided as a presentation style report in pdf. The finalised report will contain about 250+ pages.
The report contents includes the following analysis and more as applicable:
time evolution of patent filings
time evolution by assignee
time evolution by country
time evolution by technologies (devices, materials, processes, applications)
time evolution by priority countries and publication countries
time evolution by company types
analysis of leading assignees
analysis of leading assignees by patent families
analysis of leading assignees by technologies (devices, materials, processes, applications)
analysis of company type by technologies (devices, materials, processes, applications)
The report is priced at GBP 6,500* + VAT (UK companies only) and available by the end of March
Receive a 25% discount if you pre-order and pre-pay GBP 4,875* by 16th March 2018.
The patent dataset is not included as standard with this report - it can be purchased but only if the report has been purchased - price on application
To pre-order your report please email patents@cintelliq.com
Note: * single user option
Pricing:
Pricing for academic (discount for single user), multi-user, multi-site, open-innovation centres and multi-partner funded projects available - please ask for quote.