The latest perovskite patent landscape report from cintelliq finds explosive growth in perovskite photovoltaic patent publications over the past two year. In 2016 and 2017 more than 1500 patents have been published representing 75% of all perovskite photovoltaic patents published since 2008.
One of surprising finding from the patent landscape study is that a single UK based company Oxford Photovoltaics Ltd holds 119 published patents 33 patents more than second place Sekisui Chemical Co Ltd. Oxford Photovoltaics Ltd is a spin-out company from the University of Oxford and based on the work of Henry Snaith who currently holds the position of Prof at the University of Oxford.
The catalyst for this growth in perovskite photovoltaic patents can be traced back to the publication of an academic paper in 2012 by Henry Snaith1 et al on Perovskite solar cell technologies which showed it was possible to improve power conversion efficiencies to more than 10.9% and at the same time offering route towards a low-cost manufacturing process.
Fast forward to 2018 and technical progress has been nothing short of impressive with perovskite power conversion efficiencies being perovskite solar cell technologies can reach more 22%.
Not only is technical progress rapid but so too has been the transitions to commercial production. Within the past year Oxford Photovoltaics has set up a pilot production facility in Germany as too has Greatcell Solar in Australia and Saule in Poland.
Key findings
The total number of patents published to the end of December 2017 is 2030 and filed by 390 distinct assignees. The growth between 2016 and 2017 is staggering - 75% of the current published patents appeared in these two years.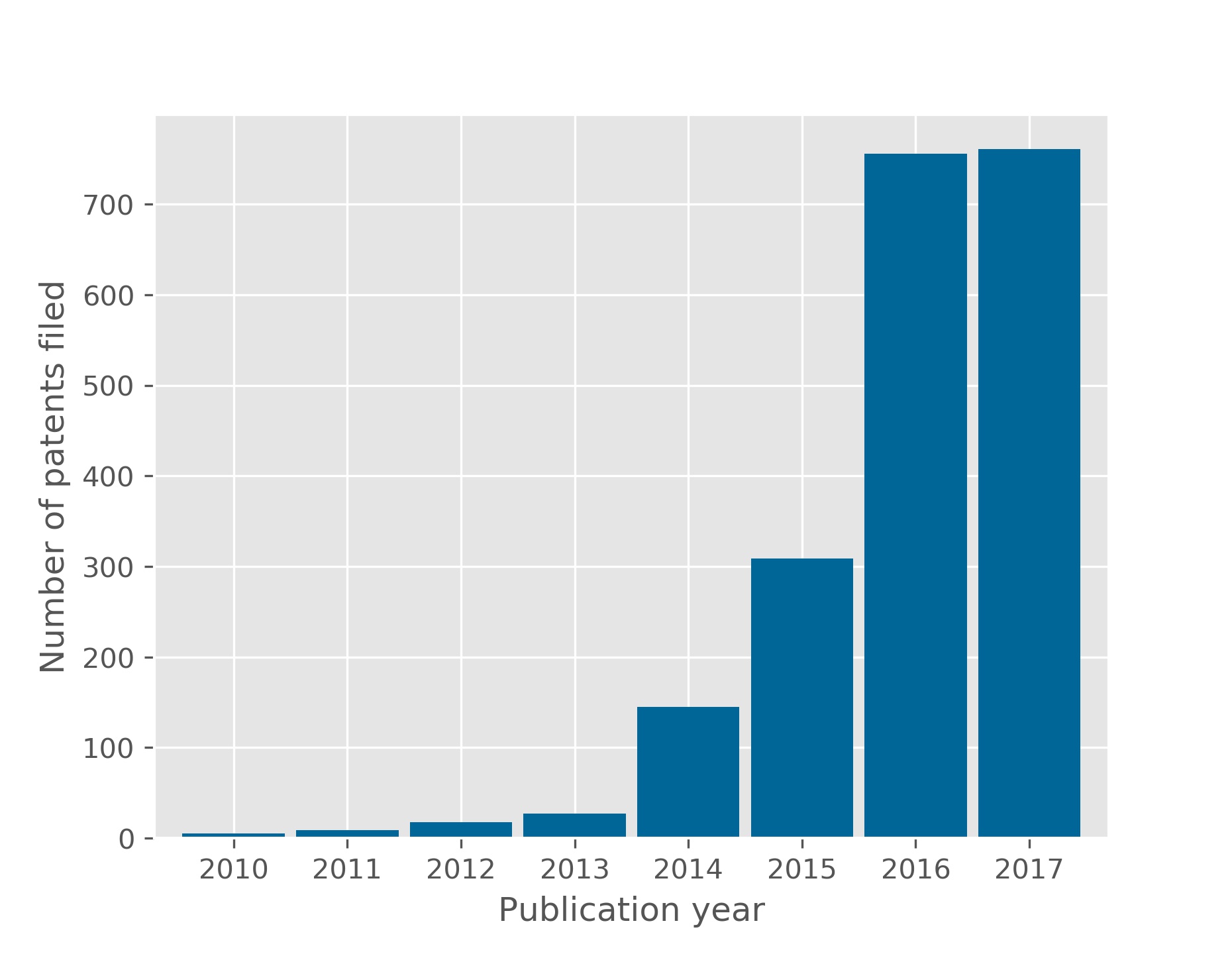 At the moment academic assignees account for 1111 (55%) of these published patents, and commercial assignees for 805 (40%) with the remaining 6% published patents by jointly owned patents (84) and those from independent assignees (30).
The top fourteen assignees (holding 21+ patents) are
| | | |
| --- | --- | --- |
| Assignee | Priority Country | Number of patents |
| oxford photovoltaics ltd | GB | 119 |
| sekisui chemical co ltd | JP | 86 |
| fujifilm corp | JP | 72 |
| hunt energy enterprises llc | US | 58 |
| huazhong university of science and technology | CN | 42 |
| korea research institute of chemical technology | KR | 35 |
| bohai university | CN | 32 |
| ecole polytechnique federale de lausanne | CH | 32 |
| lg chem ltd | KR | 32 |
| tianjin vocational institute | CN | 26 |
| institute of physics / chinese academy of sciences | CN | 23 |
| okinawa institute of science and technology | JP | 23 |
| chengdu new keli chemical science co ltd | CN | 22 |
| commonwealth scientific and industrial research org | AU | 21 |
Analysis of patent filing by country highlights significant regional differences
Chinese assignees are predominantly academics while filings in UK, Japan, Korean, and the US are predominantly commercial.
China files the most patents, with Chinese academics filing 738 patents while Chinese commercial assignees filing only 157 patents.
This is in stark contrast to non Chinese countries were commercial assignees filed a total of 648 compared to academic assignees who only filed 373 patents.
Materials and device companies are actively filing patents
The top fourteen non-Chinese commercial assignees are dominated by Japanese companies:
Six material companies: Sekisui Chemical, Fujifilm, LG Chem, Tosoh, Sumitomo Chemical and Kaneka. It is worth mentioning that Merck is just outside the top fourteen with 9 patents.

Seven device companies - Oxford Photovoltaics, Hunt Energy Enterprises, Peccell Technologies, Toshiba, Panasonic, Greatcell Solar and Seiko Epson.

Technology transfer - Yissum Research Development Co Ltd
Craig Cruickshank, lead author of the report at cintelliq, said "Since the publication of the Henry Snaith paper[1] on perovskite solar cell technologies in 2012 there has been an explosion in the number of organisations focusing on developing and commercialising the technology. This has given rise to an explosion of patent filings. Year on year growth has been rapid with more than 1,400 patents published within the past two years."
Craig added, "Given the number of organisations involved, the pace of development and the rapid improvement in power conversion efficiency perovskite means this technology has great potential to challenge silicon as the dominant solar cell technology of the future. Keeping track of patenting activities will be vital for any organisation who wishes to be a major player in this field of development."
More information about cintelliq's latest patent landscape report can be found at - "Perovskite photovotiacs: A review of the patent landscape - 2018-Q1" This latest report covers patents up to the end of December 2017.
[1] Henry Snaith Paper: "Efficient Hybrid Solar Cells Based on Meso-Superstructured Organometal Halide Perovskites"