According to a recent Tech-on news report Sekisui Chemical has announced that they will commission a pilot production of a flexible dye-sensitised solar cell (DSSC) with the eventual aim to enter mass production.
The production capacity of the pilot production machine is 20,000 m2 per year and is scheduled to start initial production of DSSC this year.
The report stated that Sekisui Chemical has developed a volume production process that can be operated at room temperature and so decided to initiate the pilot production machine at the company's Tsukuba Office - Tsukuba City, Ibaraki Prefecture.
The company plans to manufacture flexible DSSC as a stand-alone energy-harvesting power source suitable for use at residential houses, offices, car interiors, underground shopping arcades and .
The article describes DSSC as similar to organic solar cells. Adding that DSSC - as in the case of crystalline silicon solar cells - are usually made by forming a semiconductor layer on a glass substrate - the semiconductor layer being made at temperatures of about 500°C.
Now Sekisui Chemical process operates at lower temperatures and therefore suited for fabrication on a plastic substrate and also roll-to-roll production - which Sekisui Chemical expects will result in a lower-cost solar cell.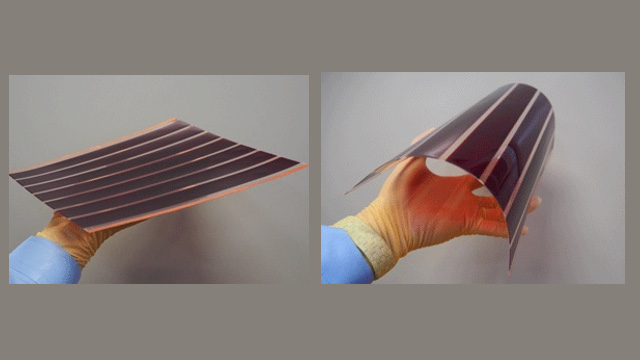 Figure: Sekisui Chemical - Flexible DSSC measuring 25 x 25cm
The roll-to-roll production technology enables the continuous processing of electrode formation through to sub-module assembly all at room temperature.
More specifically, these process steps are :
an "electrode formation process" that forms a titanium dioxide porous layer as a photoelectric conversion layer on a film surface
"dyeing process" that adds pigments to the titanium dioxide porous layer
"sub-module assembly process" that applies electrolyte and attaches it to another film, etc.
The flexible DSSC that will be mass-produced is reported to be able to generate electricity at an brightness levels of about 500lx or less. With a a thickness is 1mm or less, and weight is about 1/10 or less of the weight of glass. Flexible DSSC can br rolled, flexed, and bent if to curved forms and attached using an adhesive tape.
Sekisui Chemical aims are to commercialise DSSC products that can used in places where conventional solar cells cannot.
In fiscal 2017, it is scheduled to be released as a stand-alone power source aimed at electronic advertisement and IoT sensors.
Sekisui Chemical aims to grow the business to Yen 10 billion (in terms of sales, approx US$90.3 million) by fiscal 2025.