The construction work for the new company headquarters of Novaled GmbH will start on Thursday in the north of Dresden with the symbolic first groundbreaking. In the next few months, an old mill, a listed monument, will be renovated and converted into a prestigious office building on the 10,200m2 site at Elisabeth-Boer-Straße.
In addition to the main offices, a 110m long research facility is being built along side. This research facility will house state-of-the-art class ISO5 and ISO7 cleanrooms, kitted out with state-of-the-art equipment and process capability.>
After completion of the construction Novaled's research team will have research facilities totalling approx. 6,160 m2 - which provides the perfect environment for the development of leading edge materials for high-spec OLEDs and organic electronics.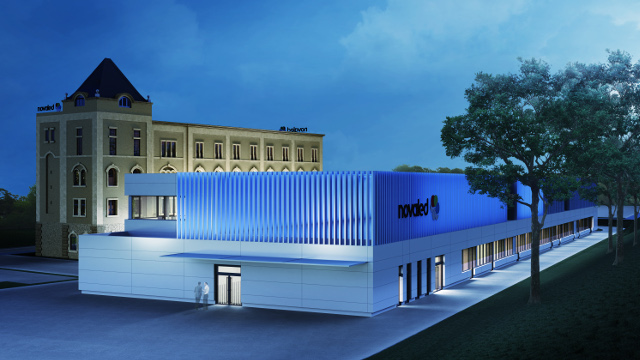 Figure: Novaled - South view of the technical centre and mill from Königsbrücker Straße
According to Novaled they are currently the only supplier of organic dopants for mass produced OLED displays. Leading to their doping technology becoming the defacto standard within the OLED industry.
The company added that materials developed in Dresden know-how and materials can be found in most smartphones, tablets and other OLED displays, as well as in OLED lighting such as Audi TT taillights and organic solar cells.
The decision to purchase the property and to invest over 20 million euros in Dresden demonstrates that Samsung is fully committed to Novaled, and the economic region. Together with the city of Dresden and the state of Saxony, the road for future success has been taken.
Gerd Günther, CEO Novaled, said, "The new Novaled premises in Dresden are a great milestone for the company and necessary to continue its outstanding growth path." Gerd added, "It is also a sign of a successful economic policy and sustainable growth in Saxony, supported by the city of Dresden, the country, the university and economic partners."