Kopin Corp.have announced they will demonstrate the smallest, fastest, highest-resolution organic light emitting diodes (OLED) microdisplay for virtual reality (VR) systems at CES® 2017.
Kopin's Lightning OLED microdisplay has 2048 x 2048 resolution (4 million pixels) in a 1-inch diagonal size and operates up to 120 Hz with low power consumption, all of which are firsts for the VR industry.
Kopin's Lightning OLED microdisplay addresses the most challenging technical hurdles with VR, including screen door effect due to insufficient display resolution, bulky goggles, and nausea or dizziness due to motion-to-photon latency, as well as heat-build-up caused by high power consumption.
Kopin said that with today's systems, insufficient resolution results in blurry images. Truly immersive life-like VR systems require 4 million pixels, which is 3-4 times the resolution of today's VR systems. The Lightning OLED microdisplay provides a very smooth image without the bothersome screen door effect.
Combining the one-inch diagonal Lightning OLED microdisplay — which is less than 1/10 the size of direct view displays — with Kopin's patented Pantile optics (< 30 mm thick) allows much smaller and thinner mobile VR systems, less than half the size of commercial VR headsets such as Oculus Rift, HTC Vive or Sony PlayStation VR. This makes Lightning-based displays comfortable to wear even for extended periods.
The Lightning OLED microdisplay has almost zero latency (about 10 microseconds). In addition, the fast 120-Hz frame rate of the Lightning OLED microdisplay, enabled by Kopin's patented backplane architecture, refreshes each frame 33% faster than existing VR systems. This greatly reduces the image lag, eliminating the nausea effect typical with VR systems. At the same time, Lightning's distinctive design enables low power consumption, even at 120 Hz.
Figure: Kopin - 2K x 2K microdisplay OLED
Figure: Kopin - 2K x 2K microdisplay OLED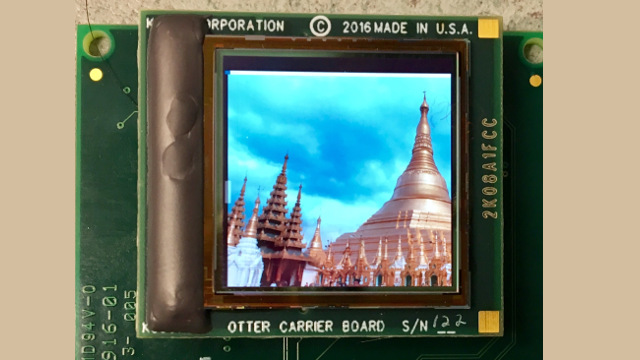 Figure: Kopin - 2K x 2K microdisplay OLED
Dr. John C.C. Fan, Kopin's president and CEO, said, "Kopin's Lightning OLED display solves many problems of current VR systems, enabling much more realistic, comfortable and overall satisfying experiences for the user." John added, "We basically started with a fresh approach to provide the best VR experience to the market: developing super-fast OLED-on-silicon microdisplays coupled with very thin optics. With our 2k x 2k Lightning microdisplay and Pantile optics, we now enable VR product designs and performance for the mass market." John concluded, "Lightning's architecture, protected by 10 patents pending, has very unique features such as higher speed, lower power and random access."