According to a report by Digitimes Chinese panel manufacturers are making big investments in OLED technology, with EverDisplay Optronics (Shanghai) kicking off construction of a Gen-6 AMOLED factory.
In addition to EverDisplay Optronics, China-based display panel manufacturer BOE Technology is constructing a Gen-6 factory for flexible OLED panels in western China at an investment of CNY46.5 billion, and fellow panel manufacturers - China Star Optoelectronics Technology, Tianma Micro-electronics, Truly Opto-Electronics, Royol and Visionox set to invest in setting up or expanding AMOLED production capacities.
EverDisplay's construction of a Gen-6 AMOLED factory will have a monthly production capacity of 30,000 1,500 mm x 1,850 mm glass substrates (including flexible units) in Shanghai City, eastern China, at an estimated total investment of CNY27.278 billion (US$3.95 billion).
Trial production to begin in January 2019 and full utilisation of capacity to be reached in 2021, according to the company.
With a total floor space of 460,000 square metres (4.95 million square feet), the factory will have three main manufacturing processes - array, OLED evaporation and module assembly. The factory will produce 1- to 15-inch AMOLED panels and modules.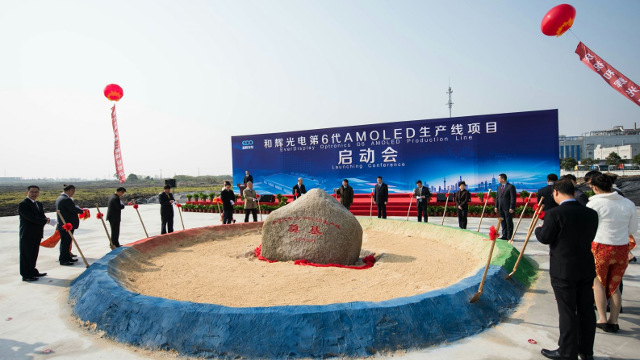 Figure: Everdisplay - Breakground at new Gen-6 AMOLED facility
According to China-based Sigmaintell Consulting, there were 260 million smartphone-use AMOLED panels with a total area of 1.9 million square meters shipped globally in 2015 and the shipments will increase to 380 million units with a total area of 2.6 million square meters in 2016.