According to a report in the Nikkei Asian Review - Japan Display is acquiring JOLED - an OLED panel manufacturer created through the merger of Panasonic's and Sony's operations - in a bid to better compete against South Korean and Chinese players by bringing Japan's display technology under one roof.
Japan Display will raise its stake in JOLED from 15% to over 50% by the end of 2017 through stock purchases from the state-backed Innovation Network Corp. of Japan (INCJ), which now owns 75% of the venture. The deal's value is expected to top $100 million. Panasonic and Sony each own 5% of JOLED.
Japan Display will also receive 75 billion yen (US$650 million) from INCJ, its leading shareholder, in order to grow both the liquid crystal display and organic light-emitting diode businesses. The assistance will come as a combination of subordinated and convertible bonds so the company has greater flexibility to expand output capacity and make other moves.
Japan Display mainly produces high-quality LCDs for use in smartphones, car monitors and computers, while JOLED is known for its midsize-to-large OLED panels.
By joining the duo's research and development and sales operations, Japan Display aims to be able to provide both types of panels depending on its clients' needs.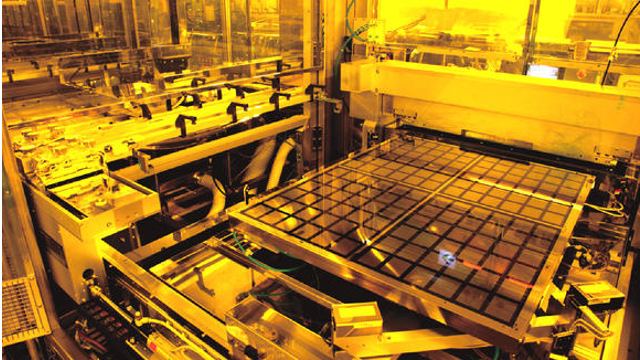 Figure: Japan Display Inc - Mobara plant in Chiba Prefecture
Japanese companies led technological advances in LCDs, OLEDs and other display panels. But rivals in South Korea and Taiwan have nimbly increased output capacity since the 2000s, driving many Japanese players out of the business.
With Taiwan's Hon Hai Precision Industry acquiring Sharp in August, Japan Display and JOLED are effectively the only two Japanese panel makers left in the industry. Japan Display hopes to gain a competitive edge by joining hands with JOLED with support from INCJ.
In other news reports it was suggested that:
JDI has been looking to invest in advanced screens for cars and gaming headsets as growth in the smartphone market slows, even setting up a pilot OLED production line in 2014 and with the intention to begin mass production of OLED screens for smartphones during 2018.
Japan Display's finances have withered on fluctuating demand from Apple Inc, prompting the company to request support from INCJ this year after a funding crunch saw it take out short-term loans
Even with support Japan Display is likely to be one of the smaller players in OLED
By comparison, LG Display Co is planning to invest 10 trillion won ($8.6 billion)in a new plant to make the ultra-thin panels
Samsung Display planning to invest 4 trillion won by 2017 in an OLED production line
Domestic competitor Sharp Corp said in August it will spend $570 million on its OLED business
JOLED was founded in January 2015. It is developing a process for mass-producing cheap OLED panels for TVs, in addition to medical and other industrial uses.
Japan Display was created in 2012 through a merger of Hitachi's, Toshiba's and Sony's panel operations. It is struggling to cut costs and posted its second straight annual net loss in fiscal 2015. Sluggish demand for the iPhone, which accounts for half of Japan Display's sales, has also resulted in cash-flow problems since the spring. The Tokyo-based display maker hopes to boost its creditworthiness by cutting its dependence on smartphone panels and receiving financial assistance from INCJ.