Oxford Photovoltaics (Oxford PV) has announced that it has acquired the production site previously operated by Bosch Solar CISTech GmbH. The site, located in Brandenburg an der Havel, Germany, will be equipped to provide modern, pilot-scale capacity to scale-up Oxford PV's perovskite technology to industry-standard wafer size and to perfect the manufacturing processes necessary for commercial deployment.
Having recently announced completion of the first portion (£ 8.7m) of a Series C funding round, the company aims now to drive towards market deployment of its' perovskite technology.
The company believes that, in a tandem configuration on top of standard silicon PV cells, its' technology will provide a bigger boost to cell efficiency than any other technology and has the potential to revolutionise the solar energy market.
The company also announced that it has already commenced recruitment of the staff who will drive the operations forward and expect to be fully operational on the site within a few months.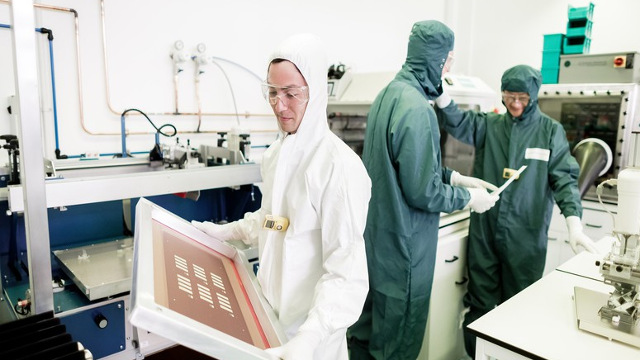 Figure: OxfordPV - Lab
In May 2016 Bosch Solar informed its employees in Brandenburg an der Havel that the company would be closing the manufacturing facility. The facility had previously employed about 150 workers in 2013.
OxfordPV are reported to be aiming to employ about 25 employees at Brandenburg an der Havel in the coming year, and ten employees are expected to arrive in Oxford. However, there is no transfer of the former employees of Bosch CISTech.
According to other news Oxford PV has been actively searching for a manufacturing facility in either Europe or Asia.
The decision to settle on a European facility was largely down to the need to have access to high specification equipment, established infrastructure and availability of qualified employees. Brandenburg offer the best option.
Negotiations with Bosch have been ongoing for some time, and the purchase agreement was finally signed on Thursday 10 November 2016.
Initial production is expected to begin within a few months, and by the end of 2018 the first cells would could be available on the market.
In a first step, the photovoltaic company intends to scale its perovskites technology to be compatible with indsutry standard wafer sizes.
Oxford PV uses a tandem configuration of a perovskite PV cell on a conventional silicon cell. This company believes would result in significantly higher efficiencies. The stability problems in the Perovskite PV tandem cells could be eliminated by the company.
Oxford PV are confident that they can coexist with the other crystalline cell producers. Crystalline silicon solar cells will continue to dominate the market in the coming decade. However, beyond perovskites tandem cells with even higher efficiencies could become the dominant solar cell of choice.
Other reports are suggesting that Oxford PV may initially aim for perovskites PV tandem cells with efficiencies above 20%. Although in the longer term the company's goal would be to further increase cell efficiency towards 30%.
Achieving high cell efficiency would significantly lower the costs of photovoltaic systems.
Oxford PV is also reported to be establishing a working relationship with an unnamed major Asian industrial partner.
No information on the financial transaction has been made public.
Frank Averdung, CEO of Oxford PV, said, "Perovskite has the potential to radically improve the efficiency of solar PV and meet the world's energy demand into the future." Frank added, "We are delighted to have secured this site which will allow us to drive quickly towards market deployment. The facility is a first-class resource and was made even more attractive to us by the availability of a highly-skilled and experienced workforce locally. We look forward to building our team and operation in Brandenburg alongside our existing operations in Oxford."