Pragmatic has announced they have secured £18 million of funding including a strategic investment from Avery Dennison. Avery Dennison joins existing shareholders Cambridge Innovation Capital (CIC) and ARM, who also participated in the round.
This investment in Pragmatic is expected to accelerate the mass deployment of intelligent packaging, with Avery Dennison leveraging the potential of Pragmatic's flexible integrated circuits (flexICs) in its inlays portfolio.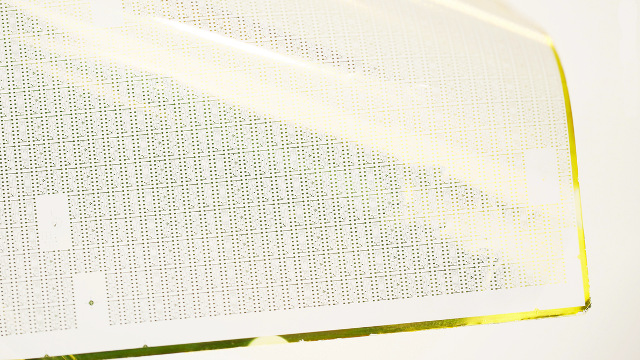 Figure: Pragmatic - Flexible printed logic circuits
The funding round supports Pragmatic's development and commercialisation of its FlexLogIC "fab-in-a-box" equipment. This modular system facilitates fully automated, high throughput production of flexICs, and is designed to fit naturally into the supply chain for a wide variety of intelligent packaging solutions.
The company said that the funding provides full support for the next stage of evolution, moving from pilot scale production to enable volume manufacturing with the FlexLogIC equipment.
Scott White, Chief Executive Officer, Pragmatic, said, "Avery Dennison works with more than 10,000 converters, brand owners and retailers worldwide, making them an ideal supply chain partner to deliver solutions based on our unique technology." Scott added, "We appreciate the confidence in our business reflected by this investment from Avery Dennison, as well as continued strong backing from CIC and ARM"
Francisco Melo, Vice President and General Manager, Global RFID, Avery Dennison, said, "We're excited about this collaboration with Pragmatic, which presents a promising opportunity to build on our high volume RFID inlay manufacturing capabilities." Francisco added, "With Pragmatic's technology, there is the potential to extend the use of unique item-level digital identities to improve consumer experiences in a number of new segments, such as fast-moving consumer goods."
Victor Christou, CEO of Cambridge Innovation Capital, said, "This funding allows Pragmatic to deliver into the market a tool for producing flexible integrated circuits at an unprecedentedly low unit price point." Victor added, "We believe this is an important step forward to commercially affordable smart packaging."