Evoled is a start-up based in Latvia focused on the commercialisation and development of novel OLED materials. Working with research teams and commercialisation teams from the Russian Lomonosov Moscow State University, Institute of Solid State Physics in Latvia and Fraunhofer Institute of Organic Electronics in Germany.
Evoled has now confirmed formal industry interest and raised capital to enable the company to be its first prototype.
Evoled aims to make OLED displays cheaper by lowering the cost of emitting layer 50x and at the same time simplifying the production process without compromising OLED panel quality. The company believes that the high cost of materials is the key challenge facing OLED industry, and needs to be overcome in order to accelerate the adoption of OLED technology across all displays.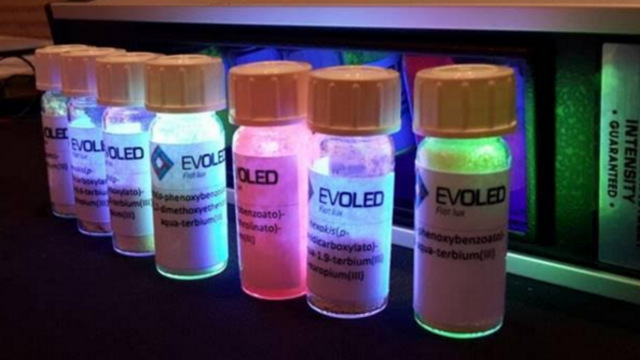 Figure: Evoled - OLED materials
According to the company's website Evoled has found a new approach to create emissive layers based on lanthanide aromatic carboxylates. They state that their have found a way to deposit highly emissive and stable lanthanide aromatic carboxylates thin films and fabricate OLEDs.
Figure: Evoled - OLED structure
Evoled state on their website they use lanthanide aromatic carboxylates that typically form coordination polymers due to very large lanthanide coordination numbers together with low denticity of the carboxylate ligands. It makes them insoluble and non-volatile – unlike their mixed-ligand complexes, in which coordination sphere is saturated thanks to additional ligands.
As soon as Evoled find an additional ligand that can not only attach to the lanthanide aromatic carboxylate, but be also easily removed at heating, they can use a MLCFD method:
deposit a thin film of a mixed-ligand complex from a solution
heat it up to the additional ligand elimination, but not too high in order not to destroy the aromatic carboxylate itself
Evoled have found such mixed-ligand complexes, they believe to be suitable to obtain thin film emitters in both green and red with high quantum yields.
Figure: Evoled - Lanthanide aromatic carboxylates
Fedor Eremin, CEO of Evoled, said, "We already have our first working prototype." Fedor added, "Now our task is to ensure consistent time life of emitting materials, as required for industrial production. Once we do this, we plan to develop the first batch in Latvia and keep growing our team here."