Tech-on news website reported that Semiconductor Energy Laboratory (SEL) recently announced technologies to realise a 13.3-inch OLED display that has a resolution of 8k, drive frequency of 120Hz and 12-bit colour scale.
The OLED display used white OLED devices and colour filters as well as a top-emission structure, which extracts light to the side opposite to the TFT substrate and, therefore, enables to easily improve light use efficiency.
For the TFT, SEL used "CAAC OS," IGZO oxide semiconductor with c-axis orientation. The TFT has a top-gate structure, and the gate electrode is formed by self-alignment. Three transistors and one capacitor are formed in each pixel (sub-pixel). The display is driven by a 12-bit source driver chip.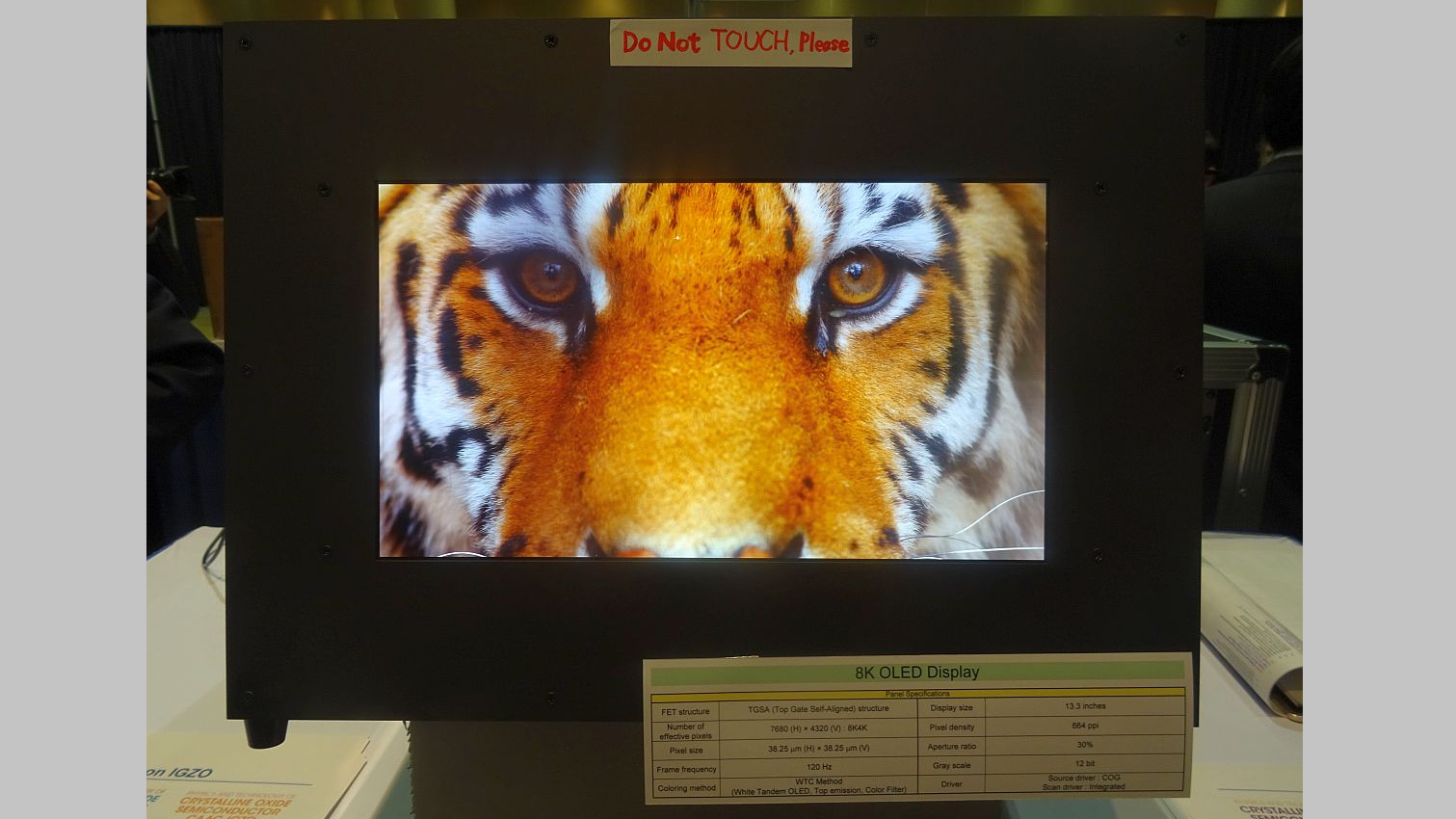 Figure: SEL - 13.3-inch 8k OLED display has a drive frequency of 120Hz and 12-bit colour scale
SEL employed the TFT with a self alignment-type top-gate structure in the aim of reducing parasitic capacitance. Also, the channel is covered with the intermediate layer, making it easy to use copper (Cu), which has a low resistance and is suited for large-screen displays, for the source/drain. For the white OLED device, a tandem structure connecting elements in series was adopted.
SEL used a white OLED device having a top-emission structure for the following three reasons.
Its high aperture ratio makes it easy to extend service life
Colour reproducibility can be easily improved because light interference effect can be utilised
It eliminates the need to apply three different colours of OLEDs by using a metal mask, making it easy to increase resolution
To realise the resolution of 8k and the definition of 664ppi with a 13.3-inch display, the numbers of transistors and capacitors in each pixel were reduced to three and one, respectively.
This was realised by cutting out part of the compensation circuit in each pixel and adding the function to an external source driver chip.
Specification
| | | | |
| --- | --- | --- | --- |
| FET structure | TGSA (Top Gate Self-Aligned) structure | Display size | 13.3 inches |
| Number of effective pixels | 7680 x 4320 | pixel density | 664 ppi |
| Pixel size | 38.25um 38.25um | Aperture ratio | 30% |
| Frame frequency | 120Hz | Greyscale | 12bit |
| Colouring method | WTC method (white tandem OLED, top emission, colour filter | Drive | Source driver - COGScan driver: integrated |