Acuity Brands has announced a new high-performance architectural linear suspended lighting solution for commercial and professional office spaces - Olessence luminaires by Peerless. These luminaires balance OLED and LED lighting technologies to maximise both beauty and performance in lighting while optimising energy savings and cost.
According to AcuityBrands OLEDs provide soft and calm diffused lighting for comfortable perceived brightness. LEDs add high-lumen performance and precise optical control of the uplight distribution serving as the primary source of ambient illumination.
Olessence luminaires feature Duet SSL technology that optimises the performance of OLED and LED light sources in a single luminaire. The sleek and contemporary luminaire features a 7.25 x 0.5 inch profile.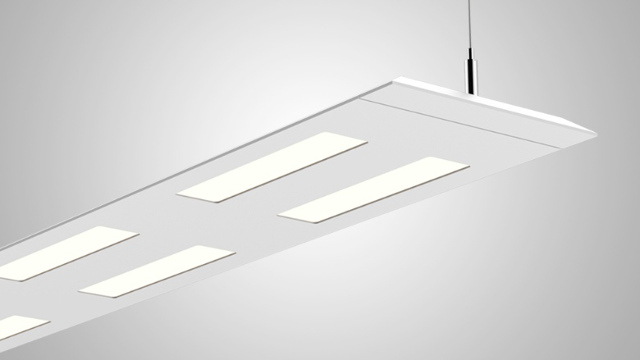 Figure: AcuityBrands - Olessence luminaires by Peerless balance OLED and LED lighting technologies
Olessence luminaire features include:
Direct-view OLED panels for downlight
High-performance batwing distribution using proprietary injection molded optics for LED uplight
Optional dual-circuit switching for independent dimming of direct and indirect light outputs
Flicker-free dimming-to-dark, powered by a remote eldoLED driver
Three LED lumen packages and three available CCT options (3000K, 3500K and 4000K) in 80+ and 90+ CRI options
Multiple control options
Available lengths of 4', 6' and 8' sections, available in white, black or painted aluminium
In addition Olessence supports an integrated nLight module for system networking, as well as integrated sensors for daylight dimming and/or occupancy detection.
Peter Ngai, Vice President OLED Lighting, Acuity Brands Lighting, said, "In balancing OLED and LED in a single luminaire, we are developing transformational and cost-competitive lighting solutions that neither technology could singularly create." Peter added, "Olessence reflects our passion for lighting innovations like Duet SSL Technology that make functional lighting more personal, engaging, and sensitive to architectural design considerations."