According to news reports Japan Display Inc has said it will begin mass production of OLED panels in 2018, with the ambition to become effective competitors with Korean rivals - this adds to the grwoing speculation that Apple is on the verge of adopting OLED displays for the iPhone and possibly iPads.
The announcements also comes as Innovation Network Corporation of Japan (INCJ), Japan Display's biggest shareholder and state-backed fund, is in talks to invest in Sharp Corp and merge its display unit with Japan Display, according to unnamed sources.
Japan Display was formed in a government-backed deal in 2012 from the ailing display units of Sony Corp, Toshiba Corp and Hitachi Ltd.
There is much to support this speculation as Japan Display already supplies smartphone screens to Apple, but faces strong competition from Asian rivals such as South Korea's LG Display and Samsung.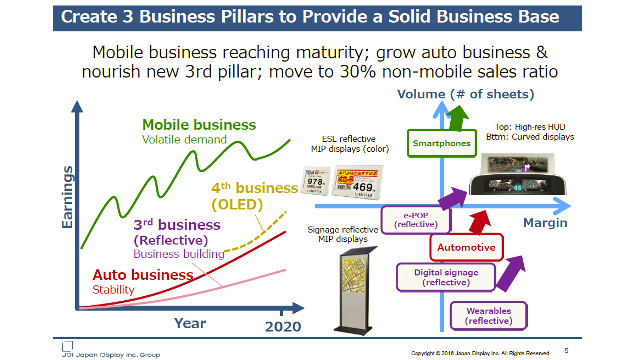 Figure: Japan Display - Slide from recent JDI presentation
Figure: Japan Display - JDI showcased the latest state-of-the-art technologies
Akio Takimoto, chief of Japan Display's research centre, said, "We will take advantage of our advanced thin-film transistor technology in developing OLED screens."